BISS/NSS & Euk AOM CH Edelmarke Second Coming, JH, ROM
2009 German Shorthaired Pointer Club Of America National Specialty Show First Award Of Merit Winner. Handled by his breeder/owner! See Nationals photos here!
BISS CH Edelmarke Second Coming JH
2009 GSPCA NSS 1st Award Of Merit
Sherman on his 2nd Birthday

First Award Of Merit ~ 2009 NSS Judge Mr. Michael Faulker Breeder Owner handled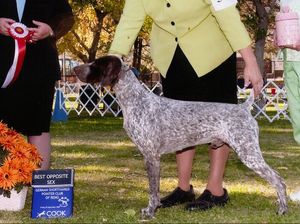 BOS GSPC of Reno, NV Judge Mrs. Susan Clemons Breeder/Owner handled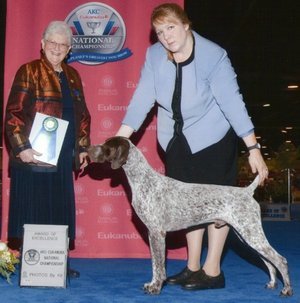 Award Of Excellence ~ 2009 Eukanuba Classic Breeder/Owner handled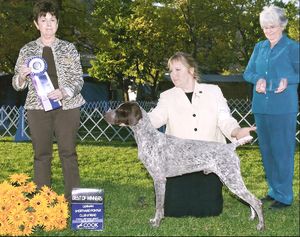 BBE Champion at 11 months old

Kevin Gaede / Lisa  Hauck-Gaede and K and N Xiong
CERF GSP

-1809

 redone in 2010 normal~ OFA Cardiac by Cardiologist ~ GSP-CA826/12M/C-Nopi 
     CD Clear - Hips GSP-13633G24M-VPI - Elbows GSP- 1096M24=VPI - L.D. Non-Carrier Dilute Clear - Eyes redone in 2015 at age 9 Normal.  
Finished Championship at 11 months old from BBE Class
2 X Eukanuba BBE Invitation recipient
Multiple Bred By Group 1 wins
All-Breed Best In Match Winner ~ Breeder/owner handled
Multiple Group Placements
2009 GSPCA National SS First Award Of Merit ~ Breeder/Owner handled
Best In Specialty Show Winner
Eukanuba Classic Award Of Excellence ~ Breeder/Owner handled

Finished JH in 4 straight passes at 8 months old with 9's and 10's
Phenominal hunter with classy, intense points that are steady to the wing, honors and retrieves from land and water, naturally.
Wonderful temperament, gets along with all dogs, males included & he is a super goof-ball with a great sense of humor. Super sweet and loves to show. He has tremendous reach and drive, a very clean down and back and has the elegance and effortless movement our standard calls for. We feel truly honored to share our lives with Sherman. See a few of Sherman's puppies! Click Here


Click below images to enlarge