Our Policies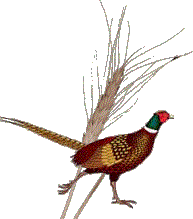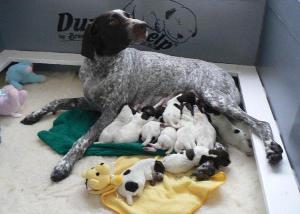 Interested in aquiring a puppy from us? Please fill out puppy questionnaire.

"Competition homes highly desired but a loving home is more important"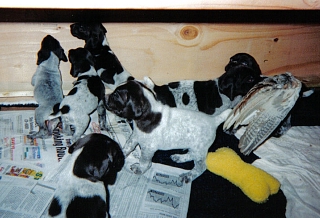 All puppies will be handled, socialized, loved and training started. We will also be using the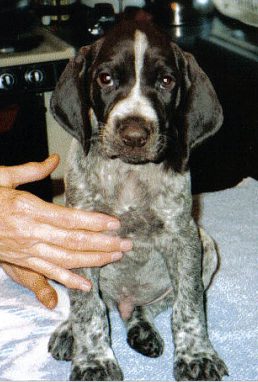 "Bio Sensor Method" and Puppy Culture,   early stimulation program with great long time results. puppies wil also be hand raised in our home. exposed to day to day noises as well as desensitization sounds.  You can read more about this Click Here.

Puppies are also introduced to wings in the whelping box then to live birds when they are older. All puppies have their dew claws removed and tails docked at 3 days old to the breed standard of leaving 40% of the original length.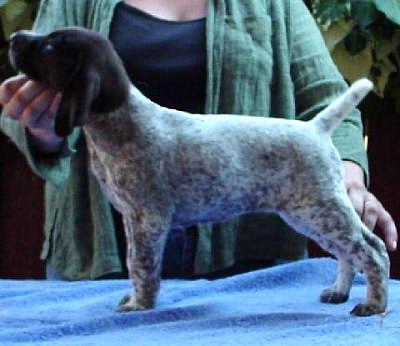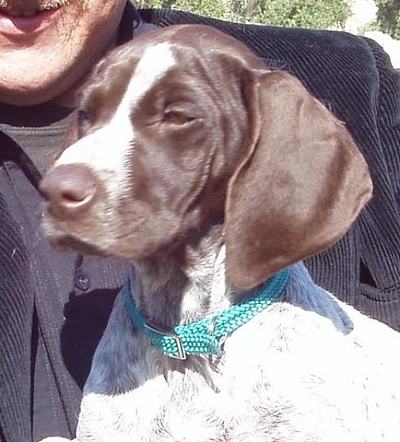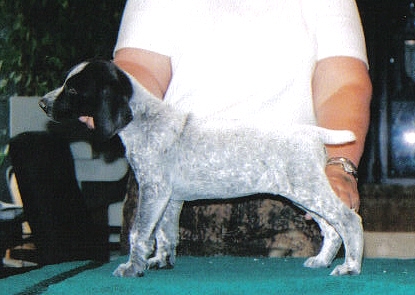 Litter is graded at 7 weeks of age to determine picks of the litter for males and females. Picks of litter are in the order of deposits received. However, competition/conformation homes will have priority for the most structurally correct puppies. Puppies can go home at 8 weeks of age. Puppies receive a Fl Health Certificate and given first series of vaccinations at 8 weeks old. All puppies will go home with a written health guarantee, feeding instructions, a 5 generation pedigree with pictures of dam, sire, grandparents and puppy pictures, micro-chip, a signed contract / guarantee, an AKC registration form and a puppy package. 
Pictures of the puppies will be placed on our "Puppy Page" when they are born and added as they grow. This will enable people to get an idea of which puppy they prefer. Individual puppy pictures will be sent home with each puppy and new owner(s).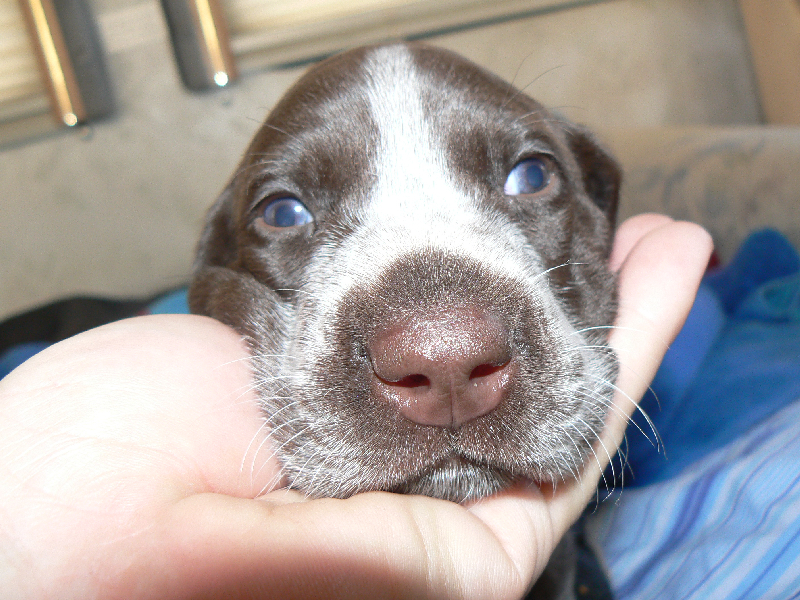 Us, as the breeders, reserve the right to have any puppy we placed come back to us if new owner is not able to keep the dog at any point in his/her life, at their expense. We will then determine the placement of that dog. If a puppy that was graded as a "show potential" does not turn out as hoped, we will take the puppy back if owner so chooses, and give another "show potential" puppy to the owner from a future litter at no charge.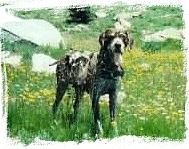 All puppies sold as "pet companions" that will not be shown in conformation events, will be sold on a spay/neuter contract and Limited Registration and must not be bred. If a puppy is sold as a "show potential" and cannot finish its AKC Championship, it must not be bred. Any dog that will be bred must have ALL of its health clearances prior to breeding, including OFA Hips, OFA Cardiac, Thyroid, Dilute, Lupoid Dermatosis, Cone Degeneration and OFA Eyes .          
 

    

 


Once a puppy is registered with the AKC, owners are entitled to 60 days of introductory Health Care Insurance, AKC Pet Healthcare, and are automatically included in an outreach program designed to enhance the dog-owning experience.
 
Please understand that puppies will NOT be promised prior to evaluation.
Homes without appropriate yard and fencing for a GSP will not be considered
*Our kennel name must be in the front of all registered names. We also co-own to protect their futures. We will register all puppies. 

Contact Us For More Information or To Reserve A Puppy


Interested in acquiring a puppy?          
Click Here


 
You are visitor number: 397931